How U.S. Company Leaders Really Work
Avenue Group Business Leader Research Series
We are excited to continue our series devoted to sharing the findings from the Avenue Group Business Leader Survey.
The Avenue Group Business Research Study
We conducted an in-depth, quantitative online survey of over 500 U.S. business leaders, in which we explored perspectives on a wide range of topics. The survey respondents lead companies that have over 250 thousand dollars in annual sales, with 65 percent presiding over companies with over one million dollars in yearly revenues.
How: Skills over Experience
We asked a series of questions about the preferences, challenges, and best practices of business leaders. Overwhelmingly, respondents report that business-related skills are more important than industry experience. As much as we think of business leaders as experts in their field, it is business acumen – rather than an expertise in one's field – that leaders believe is most important. When asked what is most important for effectively operating a business, leadership and communication skills (total of 41 percent) ranked higher than industry experience (14 percent).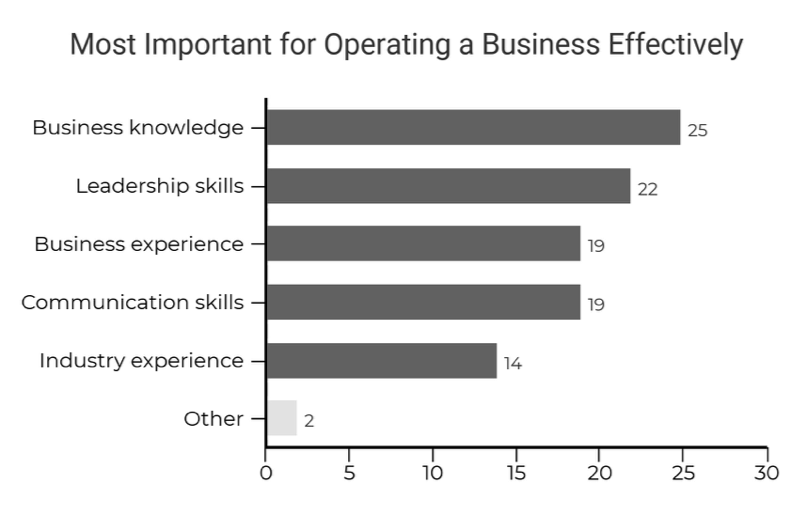 In addition, respondents report that the most challenging aspects of their leadership roles are not managing industry dynamics (14 percent) or even business management (18 percent). Rather, relationship management is the most challenging aspect, making up 64 percent of the most challenging parts of the job. People management (31 percent) is the top-ranked challenge, with time management (25 percent) and partner / vendor management (8 percent) playing significant roles as well.
Who: Ongoing Learning Driven by External Sources
Business leaders seek knowledge primarily from third-party sources, with 55 percent of respondents reporting that the most effective forms of business education are courses, research, trade journals/events, third party professionals, books, or podcasts.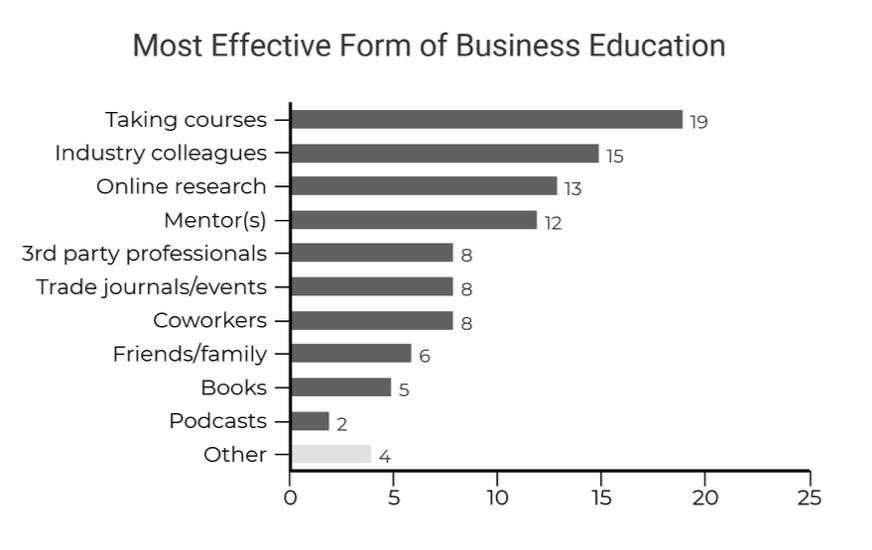 Their "inner circle" (including mentors, coworkers, friends/family) plays a relatively limited role, accounting for only 26 percent (combined) of business education.
When: Productive Mornings
For business leaders – as with all employees – productivity and time management are critical. Survey respondents view their mornings as the most productive period of their day. A majority of leaders (55 percent) report that their most productive period of the day is before 10am. The common reasons provided to support why mornings are so productive include comments such as "peace of mind" and "time alone."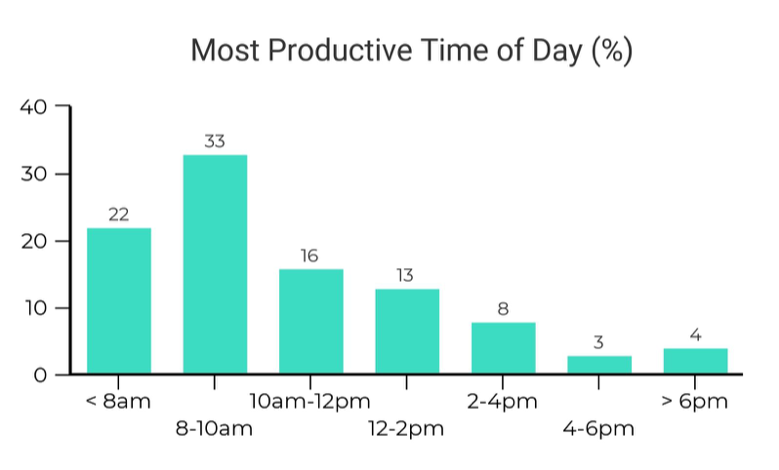 We also see a steady decline in reported "most productive" time from the morning through to the evening. However, we encourage our audience not to take away from this data a causal relationship between a preference for morning work and leadership in business. There are four percent or respondents who view their evening time (after 6pm) as most productive. Often, I find myself in this category. It is a time of day that can be quieter as people leave the office and allows one to be focused if they have retained energy that late in the day.
We hope you find this data interesting and helpful for you in your quest to be an effective and efficient business leader.
Avenue Group Business Leader Survey Methodology:
Avenue Group conducted an in-depth, quantitative online survey of 513 U.S. business leaders. Respondents hold the title of CEO, Founder, or Business Owner and lead companies with greater than $250K in annual sales. The sample is comprised of leaders with company sales as follows: $250-500K (9%), $500K-$1MM (26%), $1-5MM (26%), $5-10MM (18%), >10MM (21%). Industry breakdown is as follows: professional services (22%), technology & telecommunications (15%), financial services (11%), consumer & retail (10%), health care & pharmaceuticals (7%), industrials (5%), public sector (4%), media & entertainment (4%), energy (4%), oil & gas (3%), social sector (1%), other (13%). Geographical distribution is as follows: Southeast (30%), Northeast (28%), West (22%), Midwest (20%).
This article was written by Avenue Group Founder Jeremy Greenberg